If you came to the conference on Friday night then you ARE probably thinking what I am thinking and it probably sounds like this:
THANK YOU LORD FOR SUCH A STRATEGIC, ANOINTED, NIGHT – I will never be the same.  
When Christy opened her mouth and she spoke these profound words,
"His Presence is our calling for us" I knew our divine nerves had been awakened from slumber.  The game was on!  We had just received a divine gift.
It's easy to think we are supposed to work for God and that is true since each of us have divine gifts, but we complete our work as a result of His power not our own.
In the blink of an eye, it was time to reflect on what team we had been playing on:
Team For or Team With
All of us knew in that moment if we had allowed ourselves to become a Kingdom worker or Kingdom daughter.  The things we practice allow us to see if we are living for or with God.  Only one allows us to hit the divine bullseye as God intends.
Where are you today?
#1: Living for God
#2: Living with God
Reflect on that deep reality.  Where are you in your living posture?  Where am I?
In the bullseye of God love and Presence, everything is provided for us.
The overflow allows us to enter into deeper community with great love for God's people in our lives… and continues to overflow to those individuals around us beyond our family.
Then the outer ring of the concentric circle allows us to gain capacity beyond our own.  I bet we could call this anointing!
Do you hear it?  GOD WANTS US TO ENJOY HIM NOT JUST WORK FOR HIM.
Living from the posture of Presence doesn't look like hustle.  The essence of our being comes from a restful posture as we rise from being in His care.
God doesn't want us to try to live in His Joy and experience the fulfillment of sharing His love with others if we don't experience that love ourselves.
Obviously, God knows we live in a crazy speedy world that begs us to have and be more, but we can refuse to play in that game.
As we spend time with God, we will recognize that we are

HIS BELOVED.  
I'LL ALSO SAY THANKS TO THESE PRIZE31 TEAM MEMBERS…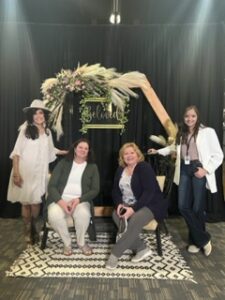 I wish I had a picture of all of you who left a lot of sweat in this game for His Great Honor!!! God watched the game, and He kept score my friend.  Great Thanks!