The days pass so quickly, each filled with bits of sparkle and reasons to smile because of the children in my kindergarten class. I am the teacher, but some days the children are the ones who lead and cause my thoughts to stir. They have led me to do some amazing reflection about following God and walking in the fulness of my faith this month.
The class has been learning a new song entitled "Obedience" and as we have dug into the meaning of the lyrics and tried to apply it to both everyday elements of life and what it means to follow Jesus, I have been prompted to reflect on my own daily walk and how important daily obedience is as I endeavor to follow God and reflect His character to the world.
The song tells the children that "Obedience is the very best way to show that you believe." It goes on to say that "Action is the key, do it immediately and joy you will receive." That makes them giggle a little. The idea of obeying is ever present in the lives of children, after all they have a whole bunch of people giving them directions, rules, and lessons to help them be safe and grow.  I have tried to impress upon the children that their obedience reflects their family and how their parents want them to become the very best they can be in life and the same is even more true of God. As I have been listening to them share who they obey and how they learn to follow the teaching that surrounds them, I was struck by this question: Am I truly focused on the lessons and learning that are available to me from my heavenly Father?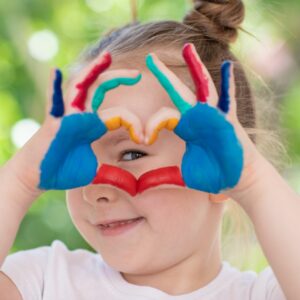 I love learning and it is a blessing to find powerful lessons in the hours I spend with my class full of five-year-olds! Their questions and attempts to express their understanding of what we learn in our daily Bible lessons are impressive. I am trying to put on this child-like receptivity in my own study of God's word and dig deeper into what it means to be made in the image of God.
I am currently working through the book, In His Image, by Jen Wilkin with the other teachers at the school. Its focus is on seeking the answer to the question: Who I should be, as one made in the image of God? We are studying ten attributes of God that are revealed in His Holy Word. Seeking to be more like the One who created us will strengthen the reflection of Him in our lives. I am looking forward to the promised joy of obedience in following His ways, replicating His character, and sharing His truth with the world.
So, like the children in my class who are looking at the adults in their lives to learn the best qualities of being, I am looking deeper into the character of God so that I can follow the narrow path obediently to learn the answer to the question:
Who should I be as one created in the image of God who is most holy, loving, good, just, merciful, gracious, faithful, patient, truthful and wise.
What a wonderful gift I have received by letting the children lead me into a renewed way of thinking as we seek to know God more each day.