After twenty years (or more) of dreaming about undersea adventure, I was finally doing it.  The first few days included working through countless challenges, but now, fifty feet below the surface, I was in God's playground.  The colors, the textures, even the crawling creatures were things that only before had existed for me in two dimension.  My heart was bursting with joy…and my instructor was having fun too.
He was playing a game.  
Kick off mask—1 point
Knock out regulator—1 point
Steal flipper—1 point
And his absolute favorite:   Turn off the oxygen tank—10 points
In the natural, I should have been stressed out of my mind.  Suddenly losing access to the one thing that is keeping you alive underwater is a little disconcerting.  Ironically, I was at peace because I had one thing.  I had a buddy.
In recreational diving, your buddy is always just a few feet away.  Attached to their BCD (vest) is a bright yellow second oxygen source that is designed for when their buddy needs air.  You practice grabbing it, using it.  You practice sharing one regulator.  There is a protocol or a certain way to make eye contact, lock arms and communicate.  You practice over and over again so when you do suddenly lose air, you don't panic.  With confidence, you calmly start working your way through the protocols.  The buddy system saves lives.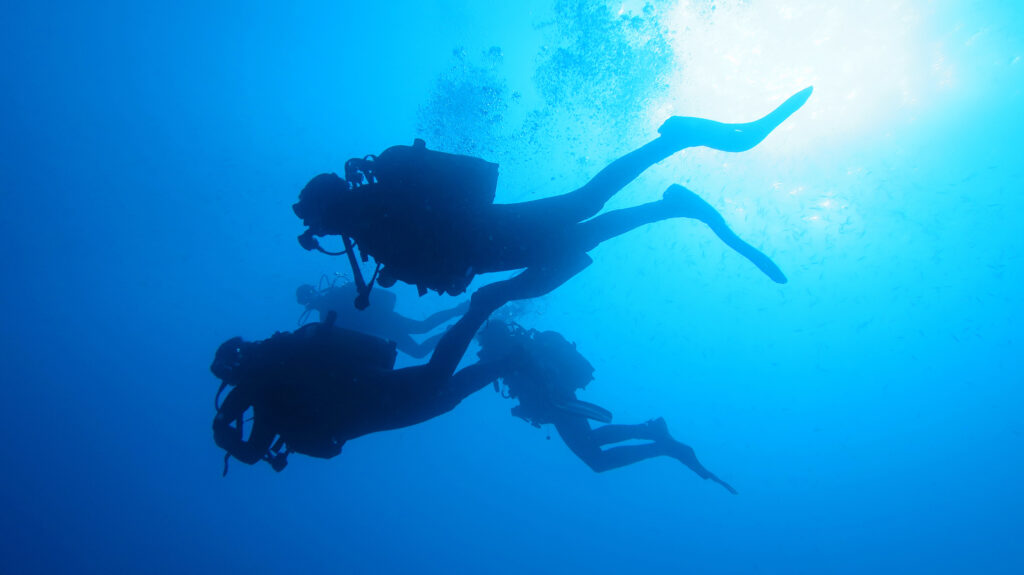 PADI, SSI or any of the other scuba training/certifying agencies didn't invent the buddy system.  They are just copying from the best.
And I will ask the Father, and he will give you another advocate to help you and be with you forever—the Spirit of truth. The world cannot accept him, because it neither sees him nor knows him. But you know him, for he lives with you and will be in you.  John 14:16-17
The Triune God—Father, Son and Holy Spirit, were together in the beginning and when Jesus departed from this earth, the Holy Spirit (Paraclete, advocate or counselor) came to dwell within each of us to be our buddy, friend and constant companion.
And do not grieve the Holy Spirit of God, by whom you were sealed for the day of redemption.  Eph 4:30
Paul, in Ephesians, goes on to list a few more heart healthy actions. 
Get rid of all bitterness, rage and anger, brawling and slander, along with every form of malice. Be kind and compassionate to one another, forgiving each other, just as in Christ God forgave you.  Eph 4:31-32
The timing of this is pretty significant.  He mentions the Holy Spirit first.  Why?  Getting rid of anger, bitterness and EVERY form of malice along with forgiving others is something that is almost impossible.  However, with the Holy Spirit as your buddy, your cheerleader, counselor and friend, you know, with God, all things are possible. (Matt 19:26)
One who has unreliable friends soon comes to ruin, but there is a friend who sticks closer than a brother. Prov 16:24
Sometimes, I dream about what life was like for Adam and Eve in the garden.  In a way, we do have a similar experience.  With the Holy Spirit dwelling in us, we have the ability to walk and talk with the Lord on a daily basis.
What does this look like?  As with any friendship, it takes a little time.  Often, you need to be quiet to first start discerning the voice of the Counselor.  For some, it is a "gut" feeling.  For others, it is a warmth the accompanies a specific thought.  You might experience it as a confidence you receive as you read the Word.  There are some pretty fine lines between hearing from the Spirit and having your subconscious speak to you.
How do you know the difference?  There are countless books, sermons and in depth studies on this topic.  It all boils down to one thing—does it align with the Word and character of the Lord?  To answer this, it involves daily diving deep into the Word.  That's how you get to know the Lord and His character.  It might be easy to look at the Word as your prep manual and take a very academic approach to it—getting lost in all the cross references,Greek meanings, etc.  There is absolutely a place for that type of study.  However, when you are just learning to converse with the Spirit, approaching the Bible as a letter from a friend accelerates the deepening of the relationship.  The Passion and Message translations create visuals of the Lord with His arm around your shoulder, walking with you, laughing together with the empty hand open and ready to receive any burden.  Periodically, He pulls you in for a squeeze or to just drop a little kiss on the top of your head—small things to give you comfort, peace and know you are loved beyond all measure.
The friendship of the Lord is for those who fear Him and He makes known to them His covenant.  Psalm 25:14
Friendship with the Lord.  Sign me up now.  Don't get caught up with the word "fear."  In this context, it means awe or reverence.  The Message translation put it this way:
God-friendship is for God-worshipers; they are the ones He confides in.  If I keep my eyes on God, I won't trip over my own feet.  Psalm 25:14-15
Isn't that beautiful?  Friendship, or the buddy system, with the Lord keeps us from tripping on our own feet.
There are times that underwater I do feel my heart rate elevate—and not because I see something delightful.  A few weeks ago I was lake diving with very low visibility.  At times, you could not see more than inches in front of your face.  We were only 16-24 feet deep, we had full tanks and it could be argued that we were fine on our own.  What a lie.  You can drown in one inch of water.  Countless things could happen that interrupt your ability to breathe underwater.  You could be drowning in fear.  Sometimes in life, things are rolling along, we are busy and don't make time to be in the Word.  We fill our lives with the advice of friends, questionable pleasures and the voice of the spirit becomes faint to the point where we can't hear anymore.  Trouble comes and we begin to drown in one inch of water…
Be vigilant.  Keep your buddy.  It can literally save your life.
Today's question?  Who is pledging to keep the buddy system?