Have you ever looked at an empty pantry and wonder how you were going to feed your four children? Have you been at the very end of your own abilities in a situation and all you could do was pray? If you have ever faced a desperate situation in your life hopefully you found out just how much our Heavenly Father intercedes on our behalf, if we let Him, if we stop trying to handle it all on our own and actually turn it over to Him as He tells us to do.
Very early in our marriage, work became scarce for my husband. We were having to rely on God more and more to provide for our needs. We prayed to Him and turned all our cares onto Him, then began to praise Him. We held tight proclaiming Philippians 4:6-7, Don't worry about anything; instead, pray about everything. Tell God what you need, and thank Him for all He has done. Then you will experience God's peace, which exceeds anything we can understand. His peace will guard your hearts and minds as you live in Christ Jesus. Notice in this scripture it says, thank Him for all He has done. Then you will experience God's peace, which exceeds anything we can understand. After we had prayed and told God what we needed, we started praising Him and thanking Him for what He was about to do. Also, we didn't try to tell God how He should provide, we just told Him our needs.
During this time our pantry was very bare, we began to pray, telling God about our empty pantry and our need to feed our family. That week my husband got a job working at a television studio helping a set dressing crew that was striking a set. This means that the television show is over, and the set needs to be cleared and torn down. This show happened to have a product placement deal with Hormel to use Hormel products on the set. As they were striking the set there were several cases of Hormel products that were going to be thrown away even though there was nothing wrong with them. My husband asked if he could take them home instead of throwing them in the dumpster, and he was given permission to do this. He came home that night with several cases of Spam and several cases of Hormel Chili. Our whole family likes chili and enjoyed it. I can't say the same for the Spam. I could now probably write a whole cookbook on "The Many Ways to Disguise Spam." We found that Spam is actually pretty good in a hamburger bun with plenty of our favorite hamburger condiments. The kids called them Spamburgers. Even though I plan never to eat Spam, I was extremely thankful for it at that time.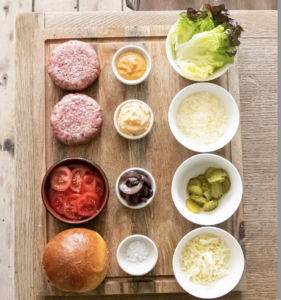 It also taught me the true meaning of 1 Thessalonians 5:18 (KJV) In every thing give thanks: for this is the will of God in Christ Jesus concerning you. This was not an easy thing to learn. It is a decision we must make, a choice. Do we grumble and complain, or choose to keep a thankful attitude in all things? God wants us to remain thankful in every circumstance with the assurance that He is in control, He will provide, and He will take us into The Promised Land. I did not want to be as the children of Israel, being ungrateful for all God had delivered them from and provided for them. Numbers 11:1 (KJV) And when the people complained, it displeased the Lord: and the Lord heard it; and His anger was kindled.
That Spam was my Manna. I had a choice whether to grumble and complain about it, or to be thankful and trust that God was providing and would take us through until we reached a more prosperous time. We always have a choice. I learned to be thankful, even for Spam.